Exploring the Antarctic with 30,000 Students Across the Globe
Tim Jacob - Director of Reach the World's Traveler Program
"It's always been Reach the World's mission to inpsire curiosity and global cooperation...you get to meet people who are on an expedition like this, who are just basically exploring their own curiosity, and having a great adventure and doing what they do really well. It opens up a lot of doors for kids who may not have considered a career in any one of those fields and thought of themselves as an explorer. It's a mindset of curiosity that is underpins everything that I tried to do and what Reach the World tries to do." - Tim Jacob
This is part 2 of a thrilling two-part series covering the Endurance22 Expedition to uncover Shackleton's lost ship and Reach the World's program to live stream much of the expedition to 30,000 students across the globe.
Our guest is Tim Jacob, Director of the Traveler Program at Reach the World, who was on board the S.A. Agulhas II as it searched for the wreck and shared this experience live with students.
In Part 1, Tim shared the incredible story of Ernest Shackleton's adventures in 1915 and the 2022 crew's expedition to uncover the shipwreck.
In Part 2, Tim tells us about the technology that enabled the crew to find the wreck, and about Reach the World's program to share the entire mission with thousands of students across the world.
Listen to Part 1: 
Endurance22 Expedition: The Search for the World's Most Famous Shipwreck
3 Big Takeaways from this episode:
Modern technology played a pivotal role in locating the Endurance shipwreck: From autonomous underwater vehicles (AUVs) to remotely operated vehicles (ROVs), the expedition crew of the S.A. Agulhas II deployed an array of high tech devices to locate the famous shipwreck.
Reach the World gave 30,000 global students live access to the crew and expedition: Through Reach the World, classrooms across the globe got to live stream the expedition, talk to the scientists and explorers, and get exposure to STEM fields, career pathways and historic experiences they never could have imagined without the work of this great organization.
There are countless opportunities in STEM for those who are curious: Just to make this expedition possible, it required a highly-skilled ship captain and crew, ice navigators, scientists, engineers, technicians, historians and many others. Students who are curious, who love to ask questions and explore, and who have access to organization like Reach the World can be inspired to pursue passions and careers that make the world a better place.
Resources: Reach the World
Educators: Dig into these resources so your students can relive the expedition, or explore Reach the World more to find out what other opportunities are available.
Reach the World's Endurance22 resource site: https://explore.reachtheworld.org
Reach the World: https://www.reachtheworld.org
Visit Reach the World's site to get resources like these! ⬇️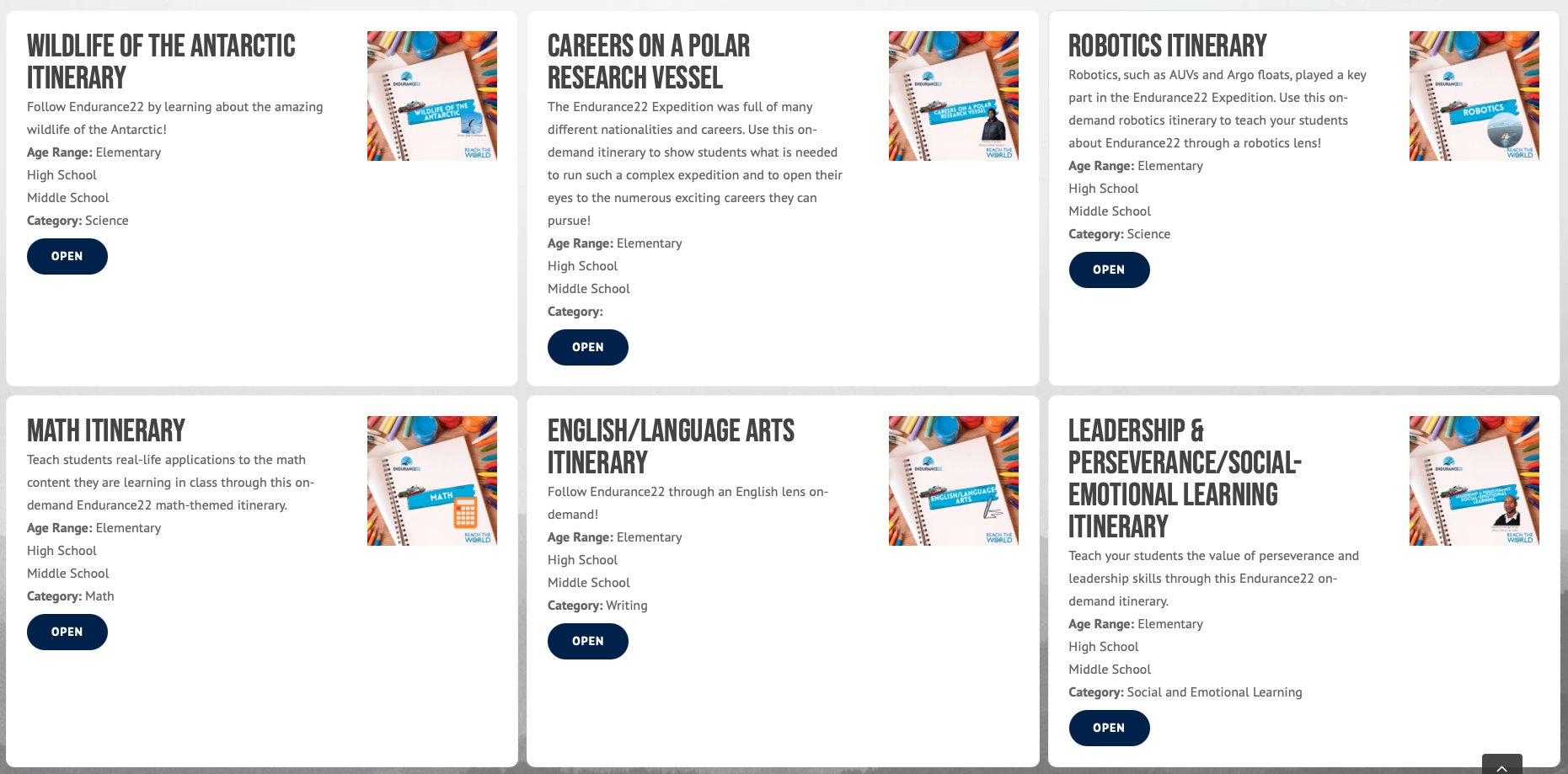 What our listeners are saying
I needed this podcast back when I was in High School!
Such great content that deserves more attention at all level of education. I wish I heard some of these episodes when I was navigating my own career path. Incredible guests, with incredible messages to share. Keep up the great work!
Compelling
I find Matt's approach to be very compelling. He brings both perspectives, industry AND education. He doesn't hold back on what he thinks is important...
Inspiring topics featuring inspiring leaders
I've listened to most of your weekly podcasts and enjoy listening to the stories and conversations that feature business and education leaders from Wisconsin. Kudos to you for creating a platform that presents ideas and success stories that are important to Career and Technical Education teachers and leaders.
Best Career and TechEd Podcast
There are a lot of education podcasts out there. This is the only one that really focuses on bringing together voices from inside AND outside education and focuses specifically on STEM and Career/Tech Ed. This is a great podcast for anyone in education and also for anyone who employs STEM or skilled-trades talent in their workforce.
The pulse of Industry 4.0
This podcast has its fingers on the pulse of Industry 4.0, and Matt K. is a phenomenal guide, traversing the complexities of manufacturing and education in one forum. A+ work all around!
New and Exciting Content With Every Episode
I really enjoy listening to this podcast when I'm driving or have a free moment. Each episode brings a new guest with a fresh and exciting perspective of both education and the workforce!
Become a Subscriber
Subscribe & leave a review on your favorite podcast platform