What's New in Automation: AI, Digital Twins, Cobots and More!
Mike Cicco, President & CEO of FANUC America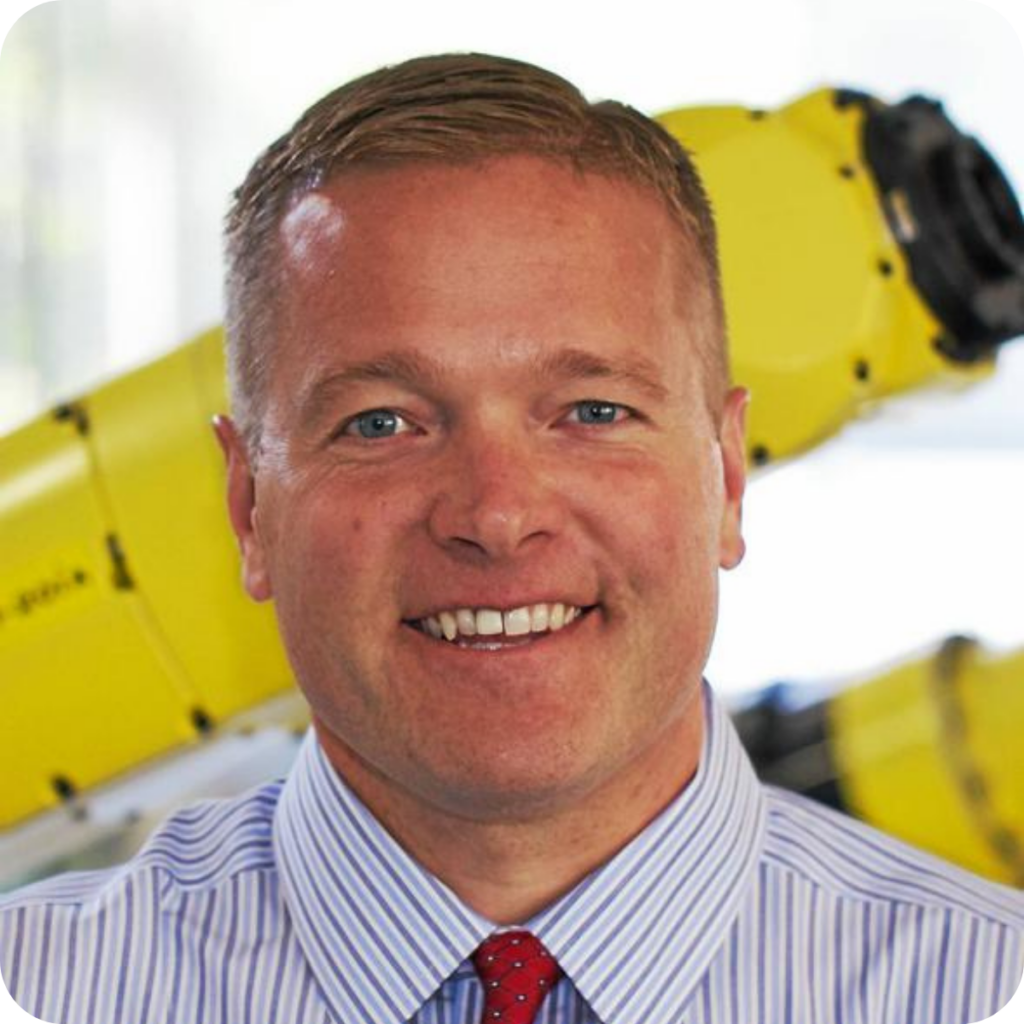 FANUC is the global leader in robotics and CNC controls technology - and we sat down with FANUC America's President & CEO Mike Cicco at IMTS 2022 to dive into the latest trends in automation.
There is so much innovation happening in the industry. From new types of robots that make automation more accessible for small-to-midsize manufacturers, to AI software that makes programming easier and more accurate, to developments in education and training to help the workforce keep up with all this innovation. And FANUC is leading the charge in all of these areas.
Fun fact: This episode was recorded at the Smartforce Student Summit at IMTS (one of the largest industrial technology shows in the world). Thousands of students of all ages attended the Summit, got hands-on experiences with cutting-edge technologies from companies like FANUC, and found joy and opportunity in the world of advanced manufacturing. This is our mission at The TechEd Podcast - to bring industry and education together - and thanks to AMT for making it possible.
3 Big Takeaways from this episode:
1. AI and Digital Twins will have a huge impact on automation in the next few years: Like many industrial OEMs, FANUC is turning to software innovation to enhance its world-leading hardware offerings. Right now, R&D is focused on artificial intelligence and digital twins. AI enables companies to take technically challenging tasks - like bin picking miscellaneous objects or assembling parts with multiple moving pieces - and makes it easier to program a robot to do them. Digital twins enable engineers to build new automation lines and processes and fully test them in a digital environment before implementation.
2. Collaborative robots (like the FANUC CRX) are making industrial automation more accessible for small-to-midsize companies: Collaborative robots (cobots) are built to inherently work side-by-side with humans. But the real benefit, as Cicco shares with us, is how the CRX is designed for simple, lead-through programming. The implication for employers is huge: programming robots and machine tools for complex tasks (including high-mix, low-volume) has never been more accessible. Now, small-to-midsize companies can more easily and rapidly adopt and deploy advanced automation into their facilities.
3. Demand for automation has led FANUC to expand its physical space and training programs: Changes to supply chain, manufacturing moving back to the U.S., and the two points above have led to a rise in demand for automation technology. In response, FANUC has expanded its manufacturing capabilities at its American headquarters in Michigan, along with expansions in Mexico. The new physical space will increase their manufacturing capabilities, but will also increase capacity for training individuals in the workforce around these technologies.
Note for educators: FANUC's education programs have led the market for years (1,500 CERT schools and counting), but with demand for robotics and CNC programming skills on the rise, it's a good time for educators to consider how they can prepare their students for these career opportunities.
Resources
Employers, to learn more about FANUC America robotics & CNC solutions, visit: https://www.fanucamerica.com/
Educators, to learn more about FANUC's robotics & CNC education and training solutions, visit: https://www.fanucamerica.com/education
You can access our first episode with Mike Cicco here: Episode #6: Why Schools Should Teach Industrial Robotics & Automation
Connect with FANUC America on social media:
What our listeners are saying
I needed this podcast back when I was in High School!
Such great content that deserves more attention at all level of education. I wish I heard some of these episodes when I was navigating my own career path. Incredible guests, with incredible messages to share. Keep up the great work!
Compelling
I find Matt's approach to be very compelling. He brings both perspectives, industry AND education. He doesn't hold back on what he thinks is important...
The #1 podcast in TechEd
This podcast is a great resource to keep up with all the exciting changes in the world of manufacturing and technology. Get key insight from industry leaders from the Midwest and around the globe that you won't find anywhere else. A must listen for anyone interested in how technology is changing the way businesses operate.
Inspiring topics featuring inspiring leaders
I've listened to most of your weekly podcasts and enjoy listening to the stories and conversations that feature business and education leaders from Wisconsin. Kudos to you for creating a platform that presents ideas and success stories that are important to Career and Technical Education teachers and leaders.
Best Career and TechEd Podcast
There are a lot of education podcasts out there. This is the only one that really focuses on bringing together voices from inside AND outside education and focuses specifically on STEM and Career/Tech Ed. This is a great podcast for anyone in education and also for anyone who employs STEM or skilled-trades talent in their workforce.
Filling in Gaps
This show spotlights a large and growing aspect of education that doesn't get enough attention. Practical and technical education is a field growing exponentially. This podcast Highlights many of the facets of this diverse field.
The pulse of Industry 4.0
This podcast has its fingers on the pulse of Industry 4.0, and Matt K. is a phenomenal guide, traversing the complexities of manufacturing and education in one forum. A+ work all around!
New and Exciting Content With Every Episode
I really enjoy listening to this podcast when I'm driving or have a free moment. Each episode brings a new guest with a fresh and exciting perspective of both education and the workforce!
Fantastic Topics on the Future of Industry
These podcasts are the best for learning about current and future technology. The stories are great. We need more of these interviews.
Become a Subscriber
Subscribe & leave a review on your favorite podcast platform