Hybrid Autonomous Manufacturing: Next-Gen Research Led by Ohio State
Glenn Daehn, Director of the HAMMER Engineering Research Center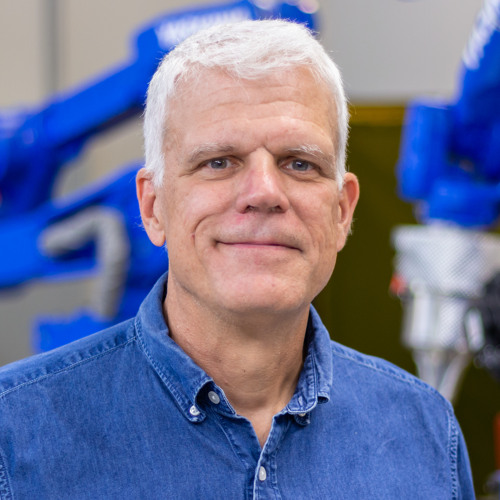 The Hybrid Autonomous Manufacturing Moving from Evolution to Revolution (HAMMER) Engineering Research Center at the Ohio State University is developing next-gen processes and systems for what the future of manufacturing will look like.
A $26 million grant from the National Science Foundation is enabling Ohio State and its partner network to carry out research and education around hybrid autonomous manufacturing.
Glenn Daehn, a professor of metallurgical engineering, is Director of the HAMMER Engineering Research Center and joins us to talk about the hybridization of manufacturing processes, how we move from automation to autonomy, the role of creativity and art in STEM, and so much more!
3 Big Takeaways from this episode:
What is hybrid autonomous manufacturing? Hybrid is about using all kinds of manufacturing processes, like subtractive manufacturing (removing material), additive manufacturing (adding material), deformation (reshaping material). As part of this project, the center seeks to develop numerically controlled systems for deformation that don't currently exist. Autonomous means those different processes can be used in tandem in a full system, where you don't need a human in the loop. It's moving from manual to automated to autonomous where the process is being sensed and monitored and controlled autonomously - one example Glenn shares would be a robotic blacksmith.
Manufacturing for design - not design for manufacturing: Glenn and his team are working to flip the model. Right now, the focus is on design for manufacturability. In the future, we'll have the ideal design we want and AI will enable us to develop the tools and processes to manufacture in the way we need to manufacture to get to that ideal design, and do it efficiently and with high quality.
Future-thinking manufacturing relies on creativity and artistry: Just as a skilled blacksmith has the perfect combination of art and skill, future manufacturing processes will require both creativity and engineering. Someday, AI will be sophisticated enough to creatively develop new ways to manufacture for design. To ensure creativity is carried into the future of manufacturing, we need to encourage hands-on learning, give students the chance to build things, and spark their creativity and curiosity in STEM.
What our listeners are saying
I needed this podcast back when I was in High School!
Such great content that deserves more attention at all level of education. I wish I heard some of these episodes when I was navigating my own career path. Incredible guests, with incredible messages to share. Keep up the great work!
Compelling
I find Matt's approach to be very compelling. He brings both perspectives, industry AND education. He doesn't hold back on what he thinks is important...
Inspiring topics featuring inspiring leaders
I've listened to most of your weekly podcasts and enjoy listening to the stories and conversations that feature business and education leaders from Wisconsin. Kudos to you for creating a platform that presents ideas and success stories that are important to Career and Technical Education teachers and leaders.
Best Career and TechEd Podcast
There are a lot of education podcasts out there. This is the only one that really focuses on bringing together voices from inside AND outside education and focuses specifically on STEM and Career/Tech Ed. This is a great podcast for anyone in education and also for anyone who employs STEM or skilled-trades talent in their workforce.
The pulse of Industry 4.0
This podcast has its fingers on the pulse of Industry 4.0, and Matt K. is a phenomenal guide, traversing the complexities of manufacturing and education in one forum. A+ work all around!
New and Exciting Content With Every Episode
I really enjoy listening to this podcast when I'm driving or have a free moment. Each episode brings a new guest with a fresh and exciting perspective of both education and the workforce!
Become a Subscriber
Subscribe & leave a review on your favorite podcast platform