Why Manufacturers Can't Find Workers (And How Schools Can Help)
Tim Sullivan, Chairman of the Bucyrus Foundation
Decades ago, great monolithic companies ruled manufacturing - these were the household names, the brands where everyone knew someone who worked there. Tim Sullivan led such companies - ones like Bucyrus, the REV Group and Gardner Denver.
In 2021, the manufacturing sector looks much different. While some of these great companies are still around, more and more production work has moved to small-to-midsize businesses and tier one suppliers. And the challenge is, these SMBs can't find the workers they need.
Today, Tim Sullivan chairs the Bucyrus Foundation, where he carries out the legacy of Bucyrus International by investing in the economic development and workforce of South Milwaukee.
Tim joined us in a fascinating discussion on this evolution of manufacturing and how it's impacting the workforce today.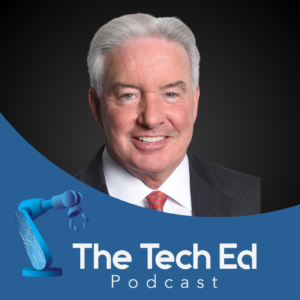 In this episode:
Why manufacturing operations and administration need to be headquartered together
How the manufacturing sector has seen massive shifts in the last few decades
The outlook of manufacturing in the U.S. in the next decade
The challenge (and solution) of finding and training manufacturing employees today
The Bucyrus Foundation's $10 million donation to the city of South Milwaukee
Where we went wrong with our definition of the American Dream - and what it really means
How to build data-driven partnerships between education and industry
Find us online:
LinkedIn: https://www.linkedin.com/company/the-teched-podcast
Twitter: https://twitter.com/teched_podcast
Facebook: https://www.facebook.com/TheTechEdPodcast
What our listeners are saying
I needed this podcast back when I was in High School!
Such great content that deserves more attention at all level of education. I wish I heard some of these episodes when I was navigating my own career path. Incredible guests, with incredible messages to share. Keep up the great work!
Compelling
I find Matt's approach to be very compelling. He brings both perspectives, industry AND education. He doesn't hold back on what he thinks is important...
Inspiring topics featuring inspiring leaders
I've listened to most of your weekly podcasts and enjoy listening to the stories and conversations that feature business and education leaders from Wisconsin. Kudos to you for creating a platform that presents ideas and success stories that are important to Career and Technical Education teachers and leaders.
Best Career and TechEd Podcast
There are a lot of education podcasts out there. This is the only one that really focuses on bringing together voices from inside AND outside education and focuses specifically on STEM and Career/Tech Ed. This is a great podcast for anyone in education and also for anyone who employs STEM or skilled-trades talent in their workforce.
The pulse of Industry 4.0
This podcast has its fingers on the pulse of Industry 4.0, and Matt K. is a phenomenal guide, traversing the complexities of manufacturing and education in one forum. A+ work all around!
New and Exciting Content With Every Episode
I really enjoy listening to this podcast when I'm driving or have a free moment. Each episode brings a new guest with a fresh and exciting perspective of both education and the workforce!
Become a Subscriber
Subscribe & leave a review on your favorite podcast platform