Smart Tech Strategies: How Johnson Controls is Digitizing Their Business
Marc Vandiepenbeeck, Vice President and Chief Financial Officer of North American Building Solutions - Johnson Controls
Johnson Controls is on a mission to make buildings smarter and to transform the environments in which we live, work, learn and play.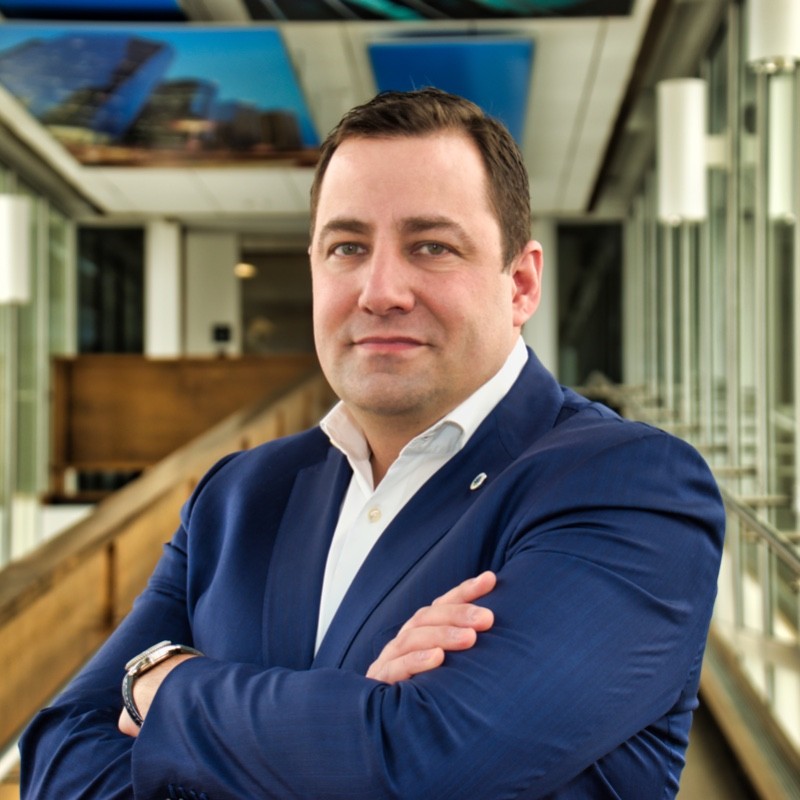 In this episode, we're talking with Marc Vandiepenbeeck, Vice President and Chief Financial Officer of North American Building Solutions at Johnson Controls. It's a fascinating discussion about the digitization of building controls, smart buildings, smart supply chains, and how digitization is impacting every aspect of the business, including finance.
Get ready to take notes. Because we're not just talking about emerging technologies - but how to know when and where to invest in digital solutions, how to focus on value-add for the customer, how to carry these strategies along your entire supply chain, and the value of risk taking in innovation.
3 Big Takeaways from this episode:
The ultimate goal of digitization is to make a better product for the end user: Like every sector, building controls are being transformed by digitization. But without a clear focus, organizations will be lost in the noise of all the digital technologies and solutions they could invest in. Marc reminds us that digitization (in building solutions) enables JCI to bring multiple systems and products together in one connected smart building, making it easier for the building owner to control their smart solutions.
The two biggest drivers of technology in finance: Big Data and RPAs: Big Data enables JCI to bring all their disparate data into one dataset, analyze it and make better business decisions, especially around supply chain and market intelligence. RPAs (robotic process automation) automate many of the low-skill activities in the finance team, enabling humans to do value-added tasks that give them a more fulfilling work experience.
A crucial key to success in 2022 is getting smart about your supply chain: We discuss how to use technologies like Big Data to understand your entire supply chain, forecast future demand, and feed those insights all the way back up the value chain. This is especially crucial in sectors like building controls and construction where an organization is managing multiple supply chains at once. Find out why we might be moving away from just-in-time manufacturing and toward a system of smart connected supply chains.
Resources
To learn more about Johnson Controls, visit: https://www.johnsoncontrols.com/
Connect with Johnson Controls on social media:
What our listeners are saying
I needed this podcast back when I was in High School!
Such great content that deserves more attention at all level of education. I wish I heard some of these episodes when I was navigating my own career path. Incredible guests, with incredible messages to share. Keep up the great work!
Compelling
I find Matt's approach to be very compelling. He brings both perspectives, industry AND education. He doesn't hold back on what he thinks is important...
Inspiring topics featuring inspiring leaders
I've listened to most of your weekly podcasts and enjoy listening to the stories and conversations that feature business and education leaders from Wisconsin. Kudos to you for creating a platform that presents ideas and success stories that are important to Career and Technical Education teachers and leaders.
Best Career and TechEd Podcast
There are a lot of education podcasts out there. This is the only one that really focuses on bringing together voices from inside AND outside education and focuses specifically on STEM and Career/Tech Ed. This is a great podcast for anyone in education and also for anyone who employs STEM or skilled-trades talent in their workforce.
The pulse of Industry 4.0
This podcast has its fingers on the pulse of Industry 4.0, and Matt K. is a phenomenal guide, traversing the complexities of manufacturing and education in one forum. A+ work all around!
New and Exciting Content With Every Episode
I really enjoy listening to this podcast when I'm driving or have a free moment. Each episode brings a new guest with a fresh and exciting perspective of both education and the workforce!
Become a Subscriber
Subscribe & leave a review on your favorite podcast platform